Our Buddy Zinnia

We are proud to be a BUDDY sponsor of Hearts United for Animals. A Buddy is someone who sponsors a friend until that special someone is adopted.
The Three Furry Tiers have chosen HUA for their uniqueness. This place is not a typical shelter, there are no cages. The dogs share large fenced fields where they romp and play. Every dog on the farm is neutered or spayed, current on all vaccinations, and treated for heartworms and fleas.
We hope and pray that she and all animals find a loving caring home. In the meantime, we know Zinnia will be well taken care of at HUA. Below is Zinnia's sad story along with some pictures direct from HUA. Isn't she a cutie?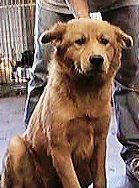 "Zinnia is a youngster - probably around six months old. She is nervous since her life to date has been turmoil. She was rescued from abandonment by a farm family. Since they already had several dogs they did not want to keep her and brought Zinnia to HUA. She is a very playful and friendly girl. She loves people and is very good with other dogs. She is a sweet girl on her way to maturity."
Visit HUA and read some of their heartwarming stories.
You can visit HUA here